Bodor G series Large cutting format Super-power, for thick and thin metal plates laser cutting machine
NO.1 Product description
1.Large cutting format
Large format for sheet cutting of 20500mm*3200mm at most, achieve overall machining of long workpieces, meet more cutting demands.
2.Super-power, for Thick and Thin Plates
Equipped with super power IPG laser device of 25000W at most, which makes efficient thick plate cutting no longer a dream. BODOR database of cutting process will provide you with data support of performance and energy saving to save cutting cost. Tailor-made super power laser machine for customers.
3.Integrated ground-rail welded bed
Integrated ground-rail welded bed with high intensity, small footprint, stable precision, good wear resistance, fully guarantees the equipment`s life.
4.Timesaving by 30%, More Precious
The quality of the cutting surface is better than traditional processing method, no need for secondary processing, the overall processing time of parts is reduced by 30%.
Ultrafast stepless perforation, significantly reduces perforation time by 60%.
Stable starting point and following-up, high precision, less slag.
Save time and electricity, improve material utilization and reduce damage to device. Check to enter the mode, saving debugging time and no technical threshold to users.
5.Germany Beckhoff system
Open
Support customized development. Beckhoff can customize Bodor interface and Bodor specific features to support multi-touch screens and monitor device processing condition remotely.
High performance
EtherCat bus control provides quick signalling and high-accuracy of sync, especially for high-speed cutting.
6.PRECITEC Auto Focus Laser Head
Light and slender design provides quick accelerating ability and cutting speed for laser head.
Reasonable optics configuration. The collimating mirrors and focus mirrors use compound lens to achieve the best optic qualitiy and cutting effect.
7.Touch Control
21.5 inch touch screen , give you the peak experience!
The first one to use UI design in the world which lets display respond to processing table, making processing more intuitive; Elegant curves precisely fit machine body. Strong waterproof breathable system creates the best space, making operation more convenient.
8.RADAN Nest Software
Easy to drag and drop a batch of DXF, DWG or IGES files with Windows interface for data exchange, makes common functions more concise;
Flexible leadin and leadout, micro-joining and overcut setting enhance operation experience.
Cutting sequence optimization for collision avoidance enhances use safety.
Automatic parts` cost quick estimation reduces labor intensity.
9.Excellent configuration

10.Functions
The heavy bed makes the equipment more stable in working, the light crossbeam makes it work faster; perfect industrial design is more in line with man-machine engineering; high quality electrical software control system gives equipment higher cutting precision. The machine owns more comfortable operation, more stable performance, more durable quality, higher cutting efficiency and wider application scope.
(1)More convenient for connecting electricity
Single-phase power supply can ensure the normal operation of equipment. This function makes machine connecting the power more convenient, and the machine could work in various places.
(2)Intelligent travel protection
Automatically monitor operation range of crossbeam and cutting parts, keeping operation within machining range. Double guarantees of fixed limitation greatly improve equipment and personal safety, minimizing the using risks.
(3)Various intelligent sensor modules
Various intelligent sensor modules to improve safety and device protection
(4)Automatic lubrication system
Automatic lubrication system provides timing and ration lubricating oil for equipment to ensure its normal and high speed operation, and owns functions of abnormal alarm and liquid level alarm. The system greatly enhances cutting accuracy and effectively extends service life of transmission mechanism.
(5)A new generation of safety following module
Laser head keeping distance with work piece in cutting process can reduce collision risks. It will stop cutting when colliding plate. The safety following module reduces accident rate and improves cutting performance.
11.Application industry
The equipment meets the parts processing requirements of most industries, working accuracy is stable. At present, laser cutting machines have been widely used in electronics, electrical, mechanical hardware, new energy lithium, packaging, solar, LED, automotive and other industries.
12.Cutting samples
It is suitable for cutting carbon steel, stainless steel, aluminum, copper and alloy metal materials.
Product parameters
Model

G20

G16

G12

Working Area

20500*3200mm

16500*3200mm

12500*3200mm

Laser Output Power

25000w/20000w/15000w/12000w/10000w/8000w/6000w

X/Y-axis positioning accuracy

0.05mm

X/Y-axis repositioning accuracy

0.025mm

X/Y-axis Max. linkage speed

80m/min

NO.2 Company Profile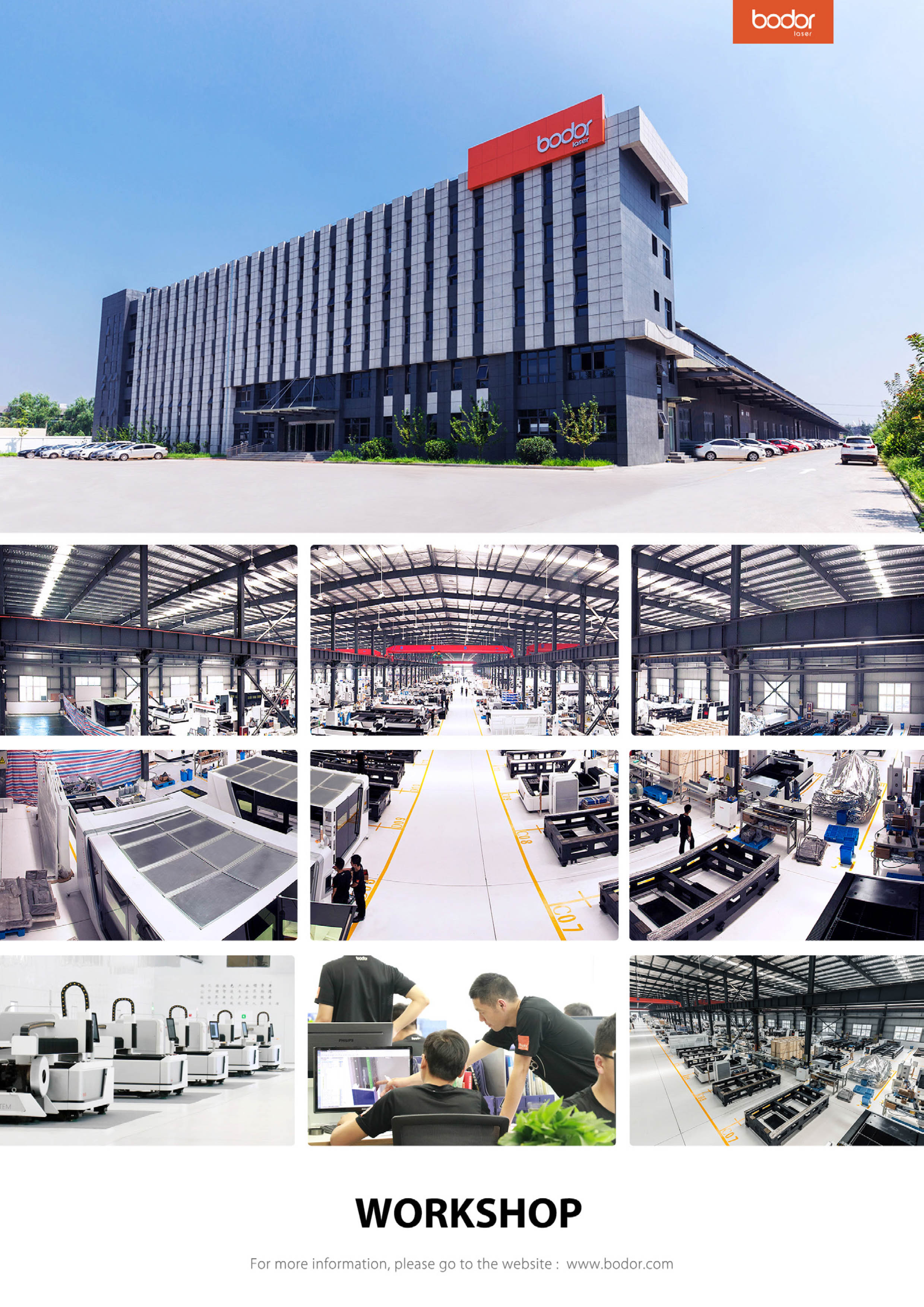 Jinan Bodor CNC Machine Co.,Ltd. owns the biggest super factory of 30000m2 in the same industry with a production and R&D center of 50,000 m2. The office area is 3,600 square meters. There are more than 1,700 employees, including over 350 R&D personnel. Bodor Laser's R&D capabilities and corporate development speed have become the benchmark in high-end mechanical intelligence manufacturing.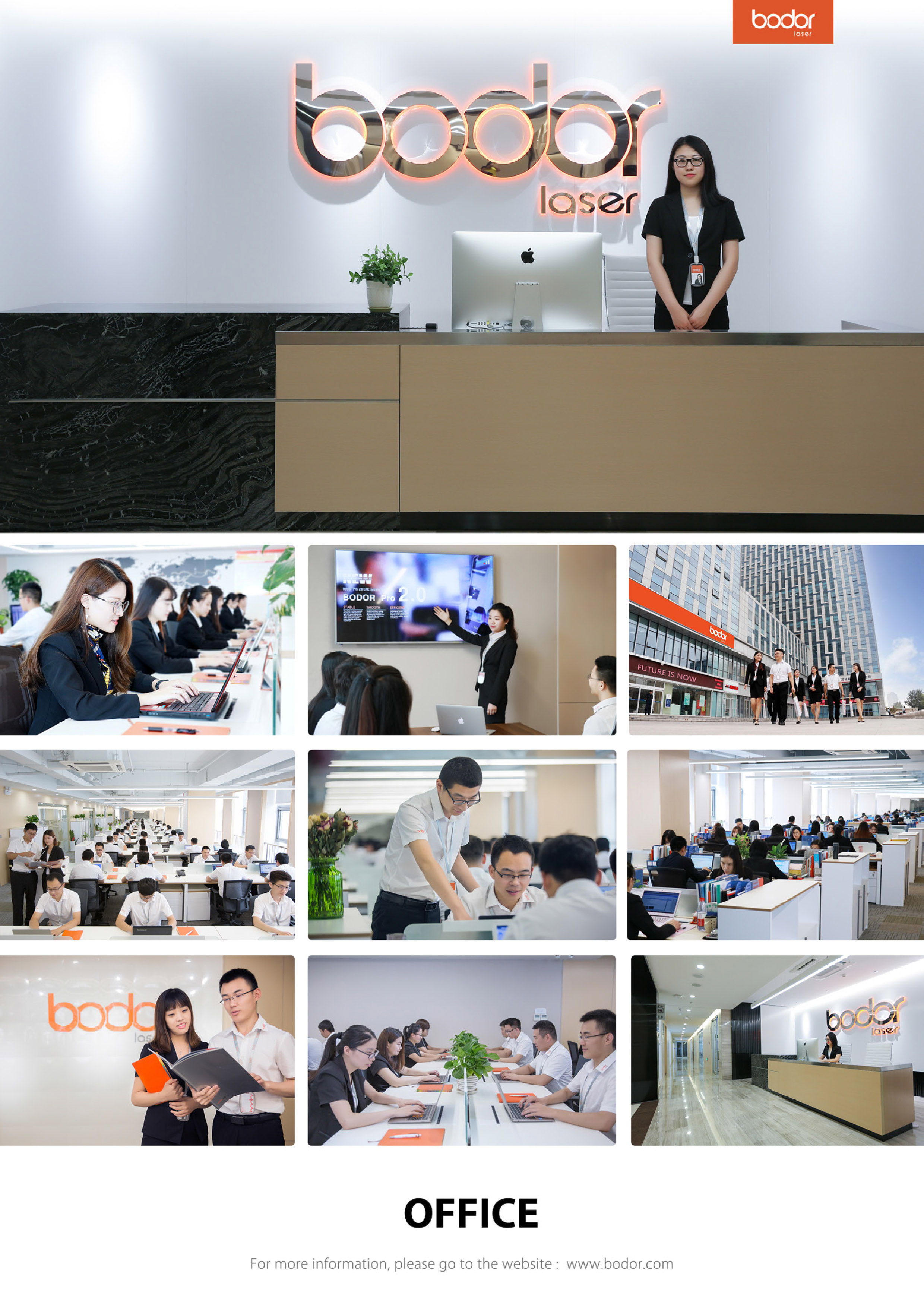 Bodor Laser competes with European and American counterparts by its unique technological advantages and stands out in the competition. Smooth cutting technology, Bodor Genius auto focus laser head improve cutting accuracy and product quality, expand the range of cutting materials; cast iron bed has high stability. Cast aluminum beam is light and flexible with higher toughness and ductility; Bodor 2.0 operating system is efficient, simple, and inclusive, which is able to meet different needs of customers for cutting. Bodor laser cutting machines, marking machines and engraving machines equipped with the most advanced technology have been shipped to people all over the world and won unanimous praise from customers.
NO.3 EXPO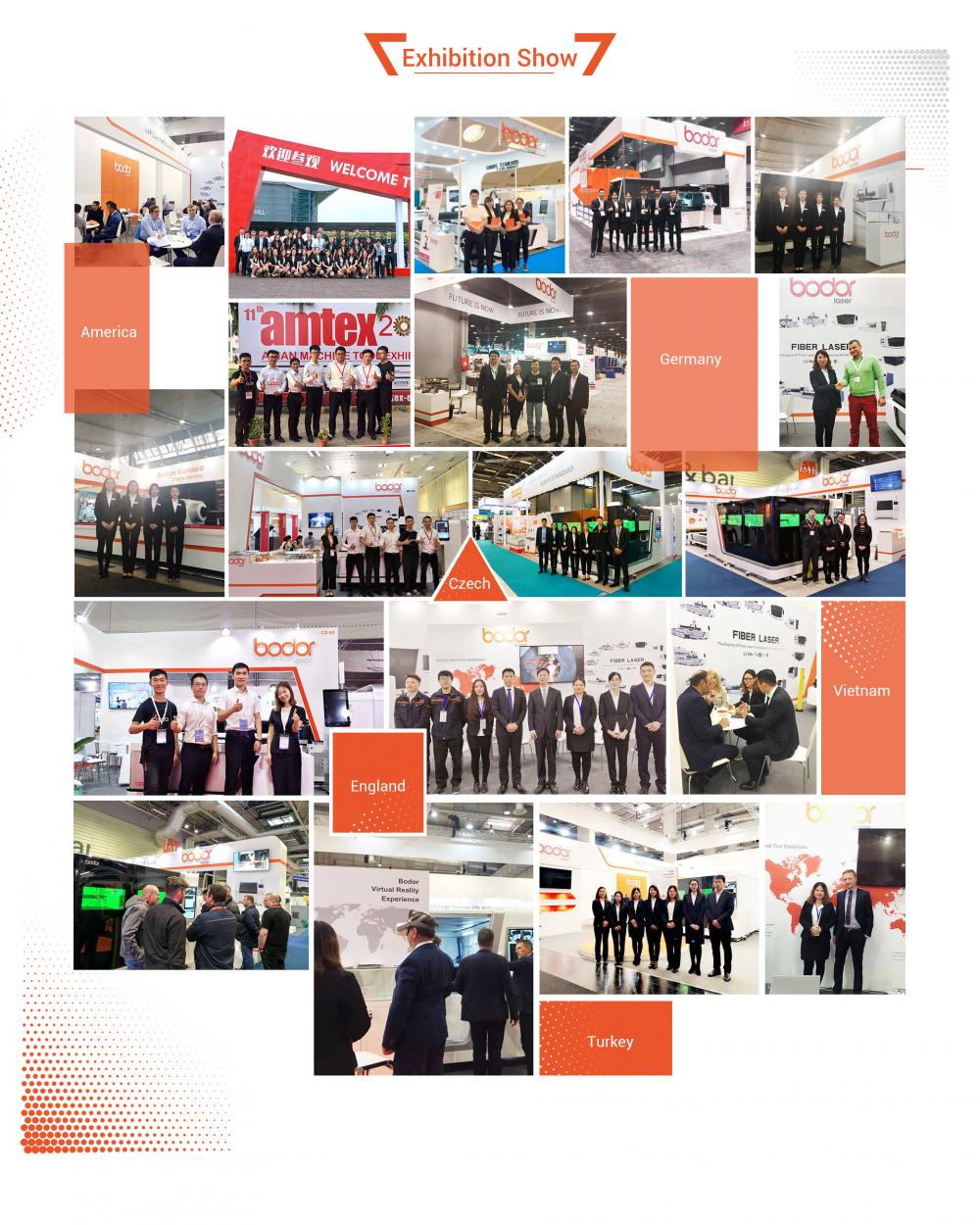 NO.4 Customer Reviews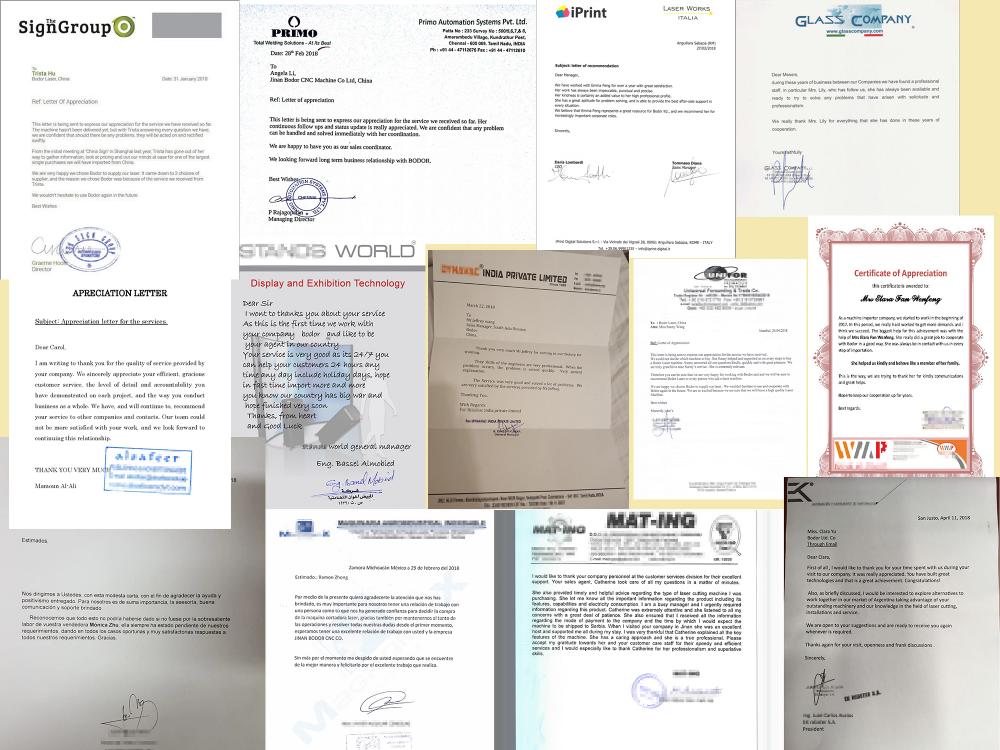 Bodor Laser has always adhered to scientific and technological innovation as the core driving force for development. After years of rapid development, the company has obtained a number of independent intellectual property rights. Until April 2019, Bodor Laser has 16 patents, 3 software copyrights, and more than 10 technical patents. After serious evaluation and selection, Bodor new products won the Red Star Award in 2016. In 2018, Bodor new models stand out in more than 5,000 works worldwide with their unique design concepts and exquisite appearances. Finally, we won the Red Dot Award and the iF Award, which are known as the[Oscar in Industrial Design". These awards show Bodor Laser`s leading design capabilities to the world.
Bodor Laser`s offices are all over the country and there are nine overseas offices in Germany, Russia, Turkey, the United States, Mexico, India, South Korea, Vietnam, and Indonesia. We serves more than 150 countries and regions on six continents and provides 24-hour service in 16 languages.
NO.5 Packaging & Shipping & Payment
Bodor Laser was listed on the New Third Board in August in 2016, which demonstrates the Bodor's strong strength to the society and the quality of its products will be subject to public supervision. Bodor Laser has always adhered to the social responsibility concept of [from the society, returning to the society", practicing the enterprise dream of[passing love with love, affecting life with life". Through actively participating in public utilities and extending the concept of corporate citizenship to poverty alleviation, education, environmental protection, scientific&technological innovation and many other fields, Bodor has won recognition from all walks of life and many awards such as [Red Cross Love Enterprise",[Provincial High-tech Enterprise"and [Shandong University Cooperation and Research Base".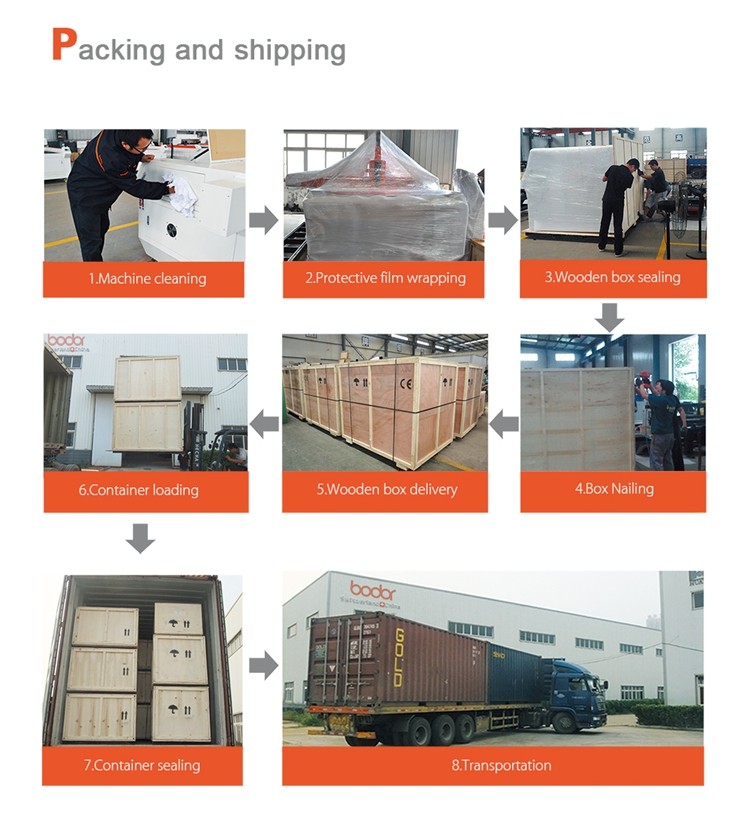 The future is a great time for high-tech`s development. Bodor Laser will continue to innovate and deepen reforms, keep leading the industry. Be the world frontrunner in the world laser industry! Let laser technology benefit millions of users and change human life!